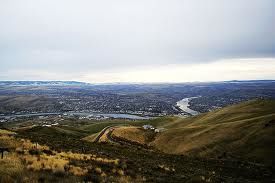 The Lewiston, Idaho/Clarkston, Washington valley is rich in historic significance: as part of the Lewis and Clark trail and as the gateway into the rugged and gorgeous Hell's Canyon, where indigenous Native Americans inscribed mysterious and ancient petroglyphs and wildlife abounds. Some of the petroglyphs you can see along the banks of the Snake River are thought to be over 10,000 years old and revered as sacred by the local Nez Perce tribe. In this majestic canyon you may view abundant wildlife such as big horn sheep, mule deer, elk, coyote, bobcat, cougar, bear, river otter, wild turkeys and eagles.
Salmon Fishing
Famed for its pink meat and mild flavor, the salmon is the most sought after fish in the world.
RATES: 1 Day Trip: $250 per person.  5 people maximum capacity.
Steelhead Season:  Exact starting and closing dates can vary from year to year
Clearwater Spring Chinook:  May – June
Columbia River Astoria / Buoy 10: August
Snake River Fall Chinook:  September & October
Steelhead Fishing
Book a trip to fish for the ocean-going rainbow trout-the steelhead. With catches of 20 plus fish a day common, this fish is fun to reel in and renowned for its trout-like meat. Side drifting bait is a fun, highly productive technique.
RATES: 1 day trip: $250 per person. 6 people maximum capacity per boat.
Steelhead Season:
Snake River Hells Canyon Steelhead: September 24th – February
Grande Ronde River Steelhead: October – February
Sturgeon Fishing
Fish for the dinosaur-era sturgeon with its legendary bulk of 200+ pounds and 11 feet in length. This behemoth fish with its exoskeleton and razor sharp bony plates make for great photo opportunities as this fish is catch and release only on the upper Snake River in Hells Canyon.
RATES: 1 day trip: $250 per person. 6 people maximum capacity per boat.
Sturgeon Season:
Hells Canyon Snake River Sturgeon: April – September
Small Mouth Bass Fishing:
Our most plentiful sport fish is the small mouth bass. It's common to hook a hundred or more fish a day. So if you're looking for non-stop action or a relaxing day drifting along, this is the trip for you.
RATES: 1 day trip $250 per person for up to 6 people.
Small Mouth Bass Season:
Hells Canyon Snake River Smallmouth: April – September
Grande Ronde River Smallmouth: April – September
Lewiston, ID and Clarkston, WA Fishing Charter Reservations