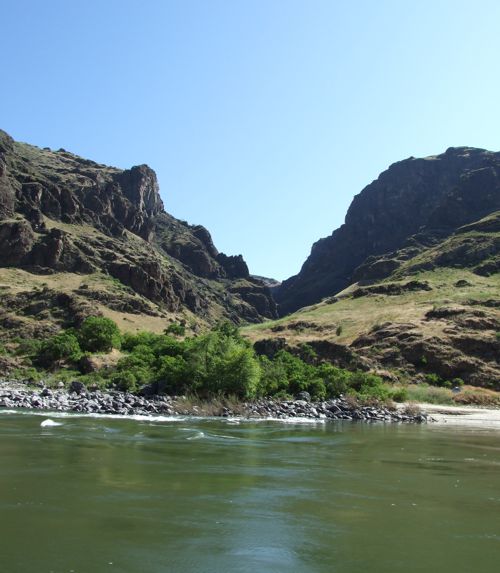 Hells Canyon is the deepest gorge in North America. Its breath-taking scenery is only surpassed by its phenomenal fishing opportunities on the Snake River- specialized to suit your sense of adventure and the fishing season. Your trip's point of departure is Heller Bar, located just 28 miles south of Clarkston, Washington.
The Upper Snake River offers a rich diversity in fishing. A Snake River angling experience may be booked for steelhead, sturgeon or the small mouth bass which inhabit this wilderness river.
Salmon Fishing
Famed for its pink meat and mild flavor, the salmon is the most sought after fish in the world.
RATES: 1 Day Trip: $250 per person.  5 people maximum capacity.
Salmon Season: September – October
Steelhead Fishing
Book a trip to fish for the ocean-going rainbow trout-the steelhead. With catches of 20 plus fish a day common, this fish is fun to reel in and renowned for its trout-like meat. Side drifting bait is a fun, highly productive technique.
RATES: 1 day trip: $250 per person. 6 people maximum capacity per boat.
Steelhead Season: September 24th – February
Sturgeon Fishing
Fish for the dinosaur-era sturgeon with its legendary bulk of 200+ pounds and 11 feet in length. This behemoth fish with its exoskeleton and razor sharp bony plates make for great photo opportunities as this fish is catch and release only on the upper Snake River in Hells Canyon.
RATES: 1 day trip: $250 per person. 6 people maximum capacity per boat.
Sturgeon Season: April – September
Small Mouth Bass Fishing
Our most plentiful sport fish is the small mouth bass. It's common to hook a hundred or more fish a day. So if you're looking for non-stop action or a relaxing day drifting along, this is the trip for you.
RATES: 1 day trip $250 per person for up to 6 people.
Small Mouth Bass Season:  April – September
Hells Canyon, Snake River Fishing Charter Reservations