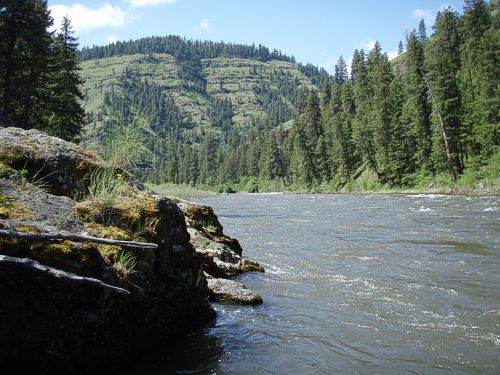 Drift trips on the Grande Ronde for Steelhead – renowned for the amount of fishing play they provide, or the thrill of spin-casting with lighter tackle for volumes of Small Mouth Bass.
The Grande Ronde River offers some spectacular scenery on this hidden jewel of the Pacific Northwest. Our 20′ drift boat offers entry to sections of this river that are not accessible by road.
Steelhead
Book a trip to fish for the ocean-going rainbow trout-the steelhead. With catches of 20 plus fish a day common, this fish is fun to reel in and renowned for its trout-like meat. Side drifting bait is a fun, highly productive technique.
RATES:  1 day trip: $250 per person.  6 people maximum capacity per boat.
Steelhead Season: October – February
Smallmouth Bass
Our most plentiful sport fish is the smallmouth bass. It's common to hook a hundred or more fish a day. So if you're looking for non-stop action or a relaxing day drifting along, this is the trip for you.
RATES:  1 day trip $250 per person for up to 6 people.
Smallmouth Bass Season:  April – September
Grand Ronde River Fishing Charter Reservations